P Series Ignition Switches - Replacement
Ignition keys were not used on most early Vespas but were introduced with the GS150 line and have been offered on most models depending on the country they are sold in, until being standard equipment on the P-Series bikes introduced in the late 70's.
This section shows how to replace a P-Series ignition switch which is handy if the switch has been forced, or you have lost your only set of keys. We got the locks in the images from First Kick for about $20 with two keys. Fitting it is very simple.
To replace the switch you'll need:
A phillips head screwdriver
Possibly a set of adjustable pliers of vice grips
A new ignition switch - see below for the different types.
Note: There are two different types of ignition switches for P series bikes - the 4 pole switch and the 8 pole switch. The 4 pole switch is just basically an on/off switch with only two positions. In honestly don't know when you'd use a 4 pole switch but most scooter shops have them in stock. Maybe it is used on European bikes? Below is a shot of the 4 pole front and back.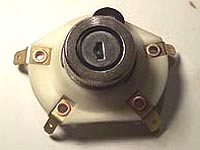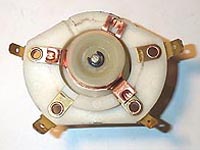 The 8 pole switch is the correct switch for any US P-series bike. It has three positions (on/off. and park) and will drop right into your wiring loom. Below is a shot of the 8 pole front and back.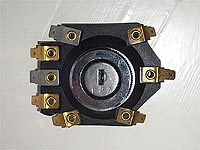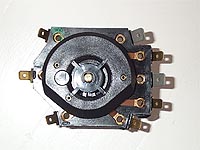 Now that you have identified the correct switch for your bike you can move on to the installation steps below.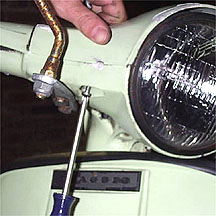 The first step is to split the headset by removing four phillips head screws from the underside. Rotating the headset from left to right makes it easy to reach them as shown above.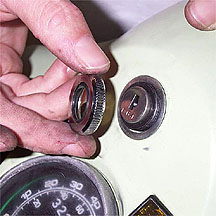 Remove the small threaded retaining ring on the top of the ignition switch where it passes through the headset top. Usually you can unscrew this with your fingers but you made need to loosely grab it with adjustable pliers to get it going. A rag around the face will protect it against scratches.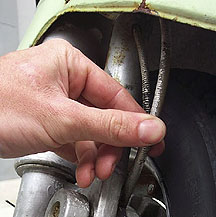 Once the headset top is released it is a good idea to shove the speedo cable slack back into the forks just below the mudguard. This will allow some space to get in and disconnect the cable from the speedometer. With the speedo cable disconnected you can fold back the headset top leaving all the other wires connected.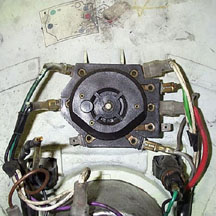 Above is a shot of a standard ignition switch off a 1980 P200E in the USA. Just disconnect one wire at a time from the old switch and reconnect it to the same location on the new switch. Once this is done reverse the steps above to reassemble the headset and switch. If you click the image it will open up as a higher resolution image